Are you looking for a Ninja air fryer cooking times chart? This air fry cooking chart for the AF100 series Ninja Air Fryers such as AF100, AF101, AF161, and AF150.
Ninja Air Fry Cooking Chart
The free printable ninja air fryer cooking times chart shows your cook-time for vegetables, poultry, fish & seafood, beef, pork & lamb, and frozen foods.
Cooking times for Vegetables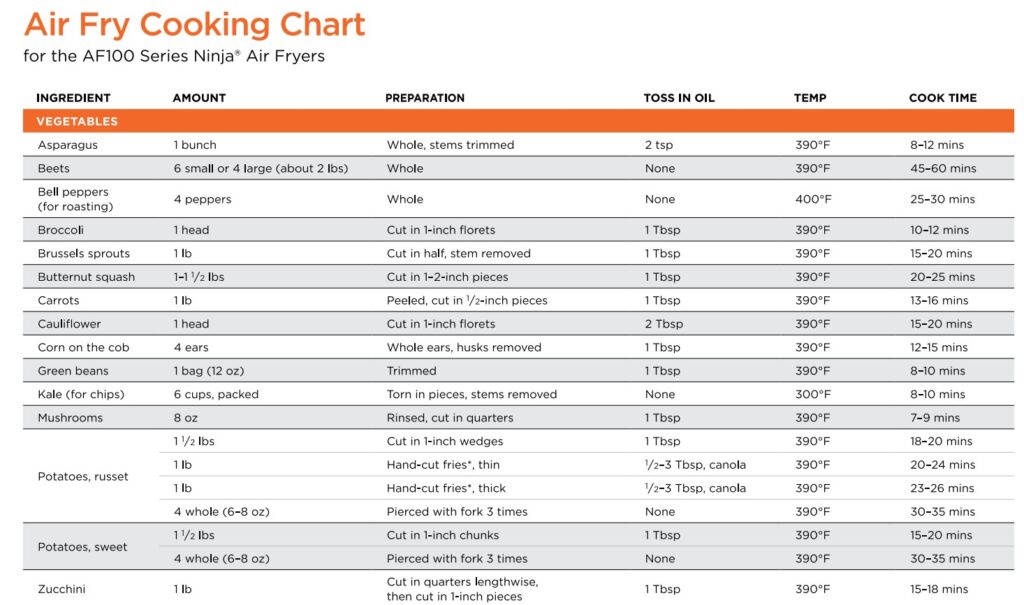 Cooking times for Beef, Pork & Lamb

Frozen Foods cooking times

Cooking times for Poultry, Fish & Seafood

Download full free printable pdf here:
Ninja Air Fryers Dehydrate Chart
Create flat, chip-like dehydrated foods for fun, homemade snacks pounds; The combination of low fan speed and low temperature enables thorough dehydration.
How To Dehydrate Foods In The Ninja Air Fryer?
Place your first layer of ingredients in the bottom of the basket. Then install the crisper plate inside the basket and set the second layer of ingredients on the crisper plate.

Insert the basket in the unit.

Press the DEHYDRATE button. The default temperature will display. Use the TEMP up and down arrow buttons to set your desired temperature.

Press the TIME up and down arrow buttons to set your desired cook time.

Press the START/PAUSE button to start dehydrating.

When dehydrating is complete, the unit will make a beep sound and END will appear on the control panel display.
Download the printable PDF Ninja air fryer dehydrator here:
Ninja Air Fryer Troubleshooting Guide
When using an air fryer, you will encounter certain problems. This guide will help you understand the problem and resolve it quickly.
Why won't my temperature go any higher?

The max temperature is 400 ˚F

How long does it take to preheat, and how will I know when it's done?

We recommend 3 minutes of preheating. You can use the built-in timer to set
a 3-minute countdown.

Should I add my ingredients before or after preheating?

It is recommended to let the unit preheat for 3 minutes before adding ingredients.

Do I need to defrost frozen foods before air frying?

It depends on the food! Follow package instructions.

How do I make the countdown pause?

Is the basket safe to put on my countertop?

The basket will heat during cooking. Use caution when handling, and place on heat-safe surfaces only.

How do I know when to use the crisper plate?

Use the crisper plate when you want food to come out crispy. The crisper plate allows for food to be elevated in the basket allowing for air to go under the plate and evenly crisp ingredients.

My food didn't cook.

Make sure the basket is fully inserted during cooking. For consistent browning, make sure ingredients are arranged in an even layer on the bottom of the basket with no overlapping. Shake loose ingredients for even crispiness. Cook time and temperature can be adjusted at any time during cooking. Simply press the up and down TIME or TEMP arrows to adjust the time or temperature.

My food is burned.

For best results, check progress throughout cooking, and remove food when the desired level of brownness has been achieved. Remove food immediately after the cooking time is complete to avoid overcooking.

Why is my food blowing around when air frying?

Occasionally, the fan from the air fryer will blow lightweight foods around. To alleviate this, secure foods (like the top slice of bread on a sandwich) with toothpicks.

Can I air fry wet battered ingredients?

Yes, but use the proper breading technique. It is important to coat foods first with flour, then with egg, and then with bread crumbs. Be sure to press the bread crumbs onto the food with your hands. Because the air fryer has a powerful fan as part of its mechanism, breading can sometimes be blown off. Pressing the bread crumbs firmly on will help them adhere.

The unit is beeping.

Your food is done cooking.

The screen went black.

The unit is in standby mode. Press the power button to turn it back on.

An "E" message appears on the display screen.

The unit is not functioning properly. Please contact Customer Service at 1-877-646-5288
Download the full Ninja air fryer manual PDF here:
You May Like