Airfryer toaster ovens are increasingly sought-after thanks to their convenience and versatility in cooking. We are witnessing a rivalry between two items from Cuisinart: Cuisinart TOA 65 vs TOA 70.
Both ovens come from the same brand and somehow share the resemblance in functions, leaving consumers baffled. That's why we offer you a comparison chart between them. We will figure out the difference in specifications: design, cooking function, capacity, and accessories.
Related post: Best air fryer toaster ovens combo
Difference Between Cuisinart TOA 65 Vs TOA 70
The parameters attached to the label somewhat show the difference. Larger numbers mean more complicated cooking capacity and ability. While the Cuisinart TOA 65 can bake easy-to-cook dishes or simply reheat, the other can become the life of a BBQ party.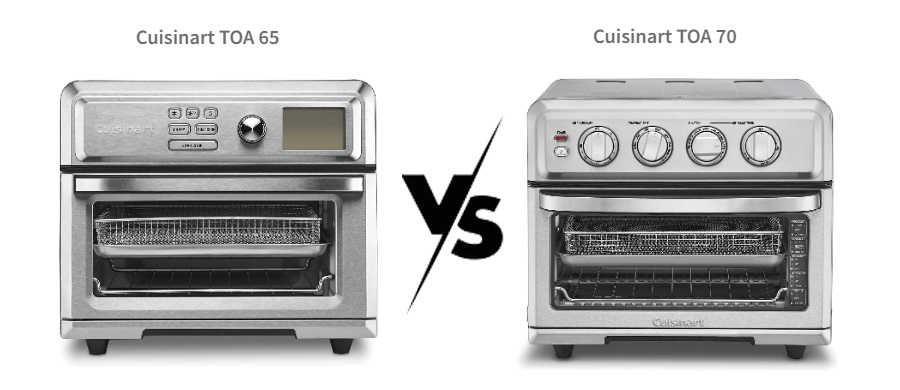 Cuisinart TOA 65 vs TOA 70 Comparison Chart
| | | |
| --- | --- | --- |
| Model | Cuisinart TOA-65 | Cuisinart TOA-70 |
| Input Voltage – Power | 120V-1800W | 120V-1800W |
| Remarkable Functions | 13 modes: Air-fry (preset), dehydrate, broil, bake, bagel, toast, roast, pizza, low, preheat, warm, proof, and dual cook | 8 modes: Grill, air-fry, toast, bake, convection bake, convection broil, broil, and warm |
| Inner Space | 0.6-cu.-ft. | 0.6-cu.-ft. |
| Temp Range | 80 – 450F | warm – 450F |
| Convection | Available | Available |
| Color | Silver | Silver |
| Dimensions (DxWxH)- Weight | 17 x 21.73 x 15.75 20.3lbs | 12.25 x 15.75 x 13.7523.1lbs |
| Cooking Timer | Up to 72 hours | Up to 60 minutes |
| Material | Stainless Steel | Stainless Steel |
| Accessories | Oven rack, oven light, air fry basket, baking pan (dishwasher-safe) | Oven rack, oven light, air fry basket, baking pan (dishwasher-safe), and grill |
| Price | Check Latest Price | Check Latest Price |
Design
True to the name of Cuisinart TOA 65 Digital Convection Toaster Oven, the device's design is equipped with a full suite of smart and easy-to-use technology techniques, namely a digital display.
You can find tool buttons represented by icons such as food defrost, convection air adjustment, air-fry setting, dual cooking, and interior space's light adjustment.
In addition, TOA 65 also has a rotary knob, allowing you to set the temperature and cooking timer as you desire. Overall, this gadget, with a simple and modern look, can fit most kitchen space concepts.
In the Cuisinart TOA 70, except for the on/off switch and inner light adjustment, the buttons have been replaced by four specialized manual knobs.
Besides two dials selecting temperature and cooking time (on the left), TOA 70 allows users to select one among six cooking modes and an auto shut-off specialized for toast mode.
Thanks to this highlight, you can eat toast to the right burning extent. This manual setting will help you achieve better cooking efficiency.
Still, we vote for the TOA 65 for its smart design.
Cooking Functions
Cuisinart TOA 65 provides you with 13 cooking functions. You can apply five basic baking functions for five particular foods: toast, pizza, broil, bake, and bagel. You can also save time heating food or drinks with two modes of reheating or keeping warm.
The remaining six functions (air-fry, proofing, low and dual cook, dehydrated cook, and roast) let you freely prepare dishes for different celebrations.
Evenly-cooked and juicy turkey for family gatherings, crispy potato snacks, or fried chicken with friends? They are no longer a challenge to TOA 65!
TOA 70 shows 8 fundamental cooking modes. Thanks to the powerful action of convection air, the air-fry feature has become more prominent than ever. You can create crispy baked dishes free from unhealthy grease or fat.
What also makes the TOA 70 remarkable is the grill mode. Combined with hot grill grates, this mode can perfectly sear steaks and enlighten your romantic dinner. The oven can also be in charge of making tasty skewers for hectic parties with friends.
The winner is TOA 65 for its versatile functions.
Capacity
As you can see in the comparison chart above, both ovens share a similarity in the inner space: 0.6-cu.ft. Specifically, it can contain up to 6 slices of toast, a 12-inch wide pizza, or two medium pieces of bagel.
Both items can bake 3 pounds on average with fried chicken wings or thighs. Therefore, you can rest assured of serving a party with about 7-10 people.
A note with TOA-70 with grill mode, we recommend that you grill about three skewers or one beef steak at a time. This way, you can avoid uneven cooking or burning.
Accessories
You can receive a lot of useful accessories when you buy Cuisinart TOA 65: an oven rack, a baking pan, and a basket designated for the Air-fry setting.
Notably, the included baking pan can be used in the dishwasher. In addition, the oven's interior has been proven to be stickiness-resistant. You can save an amount of time on the cleaning procedure.
Besides the Air-Fry basket, baking pan, and oven rack, the Cuisinart TOA 70 also offers you an oven grill. You can use it to guarantee the flavor of your steak or skewer.
Cuisinart TOA 65 vs TOA 70 Pros and Cons
Cuisinart TOA 65
Pros
Convection fan speed adjustment
Convenience with LCD screen
Wide temperature range (80-450F)
Lightweight
Versatile with 13 cooking methods
Affordable price
Large capacity
Cons
Easily get overheated
Noise from convection fan (sometimes)
Cuisinart TOA 70
Pros
Provide users with full manual adjustment
Affordable price
Power efficiency (auto shut-off function)
Large capacity
It can be used for steak
Cons
A bit heavy
Fewer cooking modes
Verdict
Now you can know the strengths and limitations of Cuisinart TOA 65 vs TOA 70. To sum up, the Cuisinart TOA 65 gains an upper hand regarding cooking function.
Meanwhile, Cuisinart TOA 70 can still bring perfection to the simplest dishes like toast (extent of burning) or complicated dishes (steak).
If your family loves many kinds of dishes, you can consider TOA 65. Otherwise, the TOA 70 can be a wise choice for you.
You May Like